Why an Interdisciplinary Team in Healthcare is Crucial
The healthcare industry is rapidly changing, and the old methods of providing care will not be as effective in the future. In a joint study conducted by Harvard Medical School and Oregon Health & Science University, researchers found that patients helped by an interdisciplinary team in healthcare experienced better outcomes than those solely by physicians. This blog post will explore why this type of team is vital for hospitals and medical clinics looking to create a successful future.
Just like in any other system, different components make up an interdisciplinary healthcare team such as:
Team Members – These are the people who carry out the work of the team. Usually, these members have a background in their specific field and work with other disciplines, such as nursing or psychiatry.
Fields of Expertise – No one discipline can provide patients with all their healthcare needs. For example, a psychiatrist cannot offer physical therapy to a patient. It means that the fields of expertise offered by each member must complement each other for your patients to get complete care.
Different Health Care Professionals – They know what they need to do and when they need to do it due to their various levels of expertise.
A system to work together is the most critical component because there would be no interdisciplinary healthcare team without it. The processes and procedures that govern how your team works will ultimately determine whether members of your team are meeting a patient's needs.
How Your Patients Will Benefit
The benefits of an interdisciplinary healthcare team are numerous. By fostering better communication between physicians and other specialists, your team will be able to provide the best possible care for your patient. Below are just a few of the benefits that you will see by having this team in place.
Increased Patient Satisfaction – Patients helped by an interdisciplinary healthcare team experience greater satisfaction than those receiving standard care because they feel more involved and listened to during their appointments. Patient retention is something your hospital or clinic benefits from by using an interdisciplinary team.
Increased Patient Compliance – Patients cared for by an interdisciplinary healthcare team experience less stress, such patient compliance means they consistently took their medications correctly and made it to all their appointments on time. This type of success is essential because you want your patient's plan to go smoothly.
Better Patient Outcomes – Last but certainly not least is the benefit of better patient outcomes on an interdisciplinary team. By having a variety of professionals on your healthcare team working together to provide care for one individual, you will see healthier results. It means that your patients are more likely to leave successfully and that they will be happier with their care than ever before.
Implementing an Interdisciplinary Team in Healthcare
While it may seem like a complicated change, adding members of an interdisciplinary team is simple and can provide your hospital or clinic with the best possible outcome for patients' health plans. Adding nurses who specialize in specific areas will help keep physicians up to date and better communication between the two parties.
For example, someone specializing in addiction medicine, a nurse, and a nutritionist working together can develop a healthcare plan that will work for the patient. Physicians may be more aware of what protocols best suited to help patients with their illnesses but having nurses and nutritionists available can ensure that these plans go through smoothly – all while keeping your patients happy!
Additionally, adding social workers to your team will help patients feel more at ease during their appointments by providing an additional person who can listen if they need someone to talk to or provide guidance throughout their stay in the hospital.
Having a chaplain on staff adds another layer of care for your patients. Having a chaplain is beneficial because they can offer spiritual guidance and support during difficult times and be available for emotional help you need them to provide the patient throughout their stay in the hospital or clinic.
Capitalizing on this kind of collaboration can not only improve patient happiness but may also boost your hospital or clinic's profitability.
Common Misconceptions
While an interdisciplinary healthcare team will provide your patients with better care, people have some common misconceptions about this system.
Misconception #1: Adding multiple members to a healthcare team means you cannot afford them, and it's not worth making changes to add more staff members. This misconception is false because having an interdisciplinary team allows you to have more people on staff and handle more concurrent patients without spending a lot of money.
Misconception #2: Too complicated and time-consuming. It can take as little as two weeks for a new member on the team to feel comfortable and become productive in their role at your hospital or clinic. These professionals have extensive education and experience to make them a great addition to your healthcare team.
Your team members may even have a lot of knowledge to share and the physicians on their new team! It means that you do not need to worry about allocating resources for this system because it will save you time and money.
Misconception #3: Hindered productivity or "piling on" extra work for the doctors when adding multiple members to their healthcare team. It could not be further than the truth because these professionals all have their duties and responsibilities and work collaboratively to provide excellent patient care.
Misconception #4: Physicians will feel they don't need to work as hard because more staff members are on their team. The truth is everyone in the group will have their unique role. A team of individuals with various specializations working together as a team means your patients receive a holistic approach to health while while providing more resources for them.
Misconception #5:  Team members will not be as qualified as individual professionals. Each team member has the education and experience that they bring to your practice. For example, a nurse with over 25 years of nursing experience will likely have more knowledge about how healthcare works for patients than someone who just graduated from school last year.
In conclusion, having an interdisciplinary team in healthcare is crucial for improving patient plans and outcomes and increasing satisfaction from patients who receive care at your hospital or clinic. While there are some common misconceptions about this system, you will see a higher quality of patient care and more successful plans once you implement it into your organization's workflow.
Your Team May Ask These Questions
While the team will have a lot of responsibility for providing better plans and patient satisfaction, they will also have questions for your patients. These questions will likely help the team determine what interventions they need to provide a more successful plan.
The questions that your team may ask include but are not limited to:
-What are your symptoms?
-Do you have any other health conditions or allergies?
-What do you hope to get out of this visit today?
Asking questions like these can help determine how to address each patient's symptoms and needs best. This kind of system will allow you to provide more effective plans that give patients exactly what they need to feel better or recover faster than ever before!
Following these questions, your team will then collaborate and determine who can address your patient's needs based on the answers they've provided. What are the kinds of interventions that will lead to a good outcome for this patient? What are the goals of each intervention?
Imagine a team of healthcare professionals specializing in different fields, working together for one patient – this could mean that all aspects of your patient's health won't be left untouched, providing them with a more holistic approach to healthcare.
The Future Interdisciplinary Team in Healthcare
It becomes clear that an interdisciplinary healthcare team is crucial when providing patient plans because you will see better health outcomes, increased satisfaction from patients, and happier providers on your team. While this type of system does take some work to put into place, it is worth the time and effort because you invest in better patient care overall.
Clinical Decision Support System – Provides medical information to help providers carry out a procedure or formulate a plan on behalf of their patients.
Electronic Health Records – Allow for on-the-spot access to all pertinent patient data entered by a medical scribe and be used as part of clinical decision support systems.
Remote Patient Monitoring – Enables providers to monitor the health of their patients from a distance. It allows for more efficient care by enabling them to avoid unnecessary visits and reduce readmissions rates.
Knowledge Management Technology – Enables a hospital to track and manage the training needs of their employees. It ensures that everyone is up-to-date on new regulations, practices, or procedures.
Mobile Applications – Allow providers to access EHRs from mobile devices to provide better care when out in the field, improving communication and workflow.
Graphical User Interface – Helps providers access electronic health records with ease, providing more convenience in the workflow.
Image Management System – Helps reduce unnecessary duplication of images by allowing those images to be stored once and accessed from anywhere within the healthcare network.
Point of Care Imaging Systems – Allow providers to view images in real-time and make notes about the patient right then and there, instead of referring to digital files later where they can be misplaced.
Rehabilitation Information System – Provides instant access to the intake, discharge, and progress notes for rehab patients so that providers can have an easier time accessing patient data.
Resource Library Management System (RLS) – Helps improve the workflow of your patient care team by storing reference materials in one central location so that they are easily accessible.
Planning Programs – Help providers create plans for patients based on their medical needs, which can help you provide more effective protocols that give patients exactly what they need to feel better or recover faster than ever before.
BioScan for Interdisciplinary Teams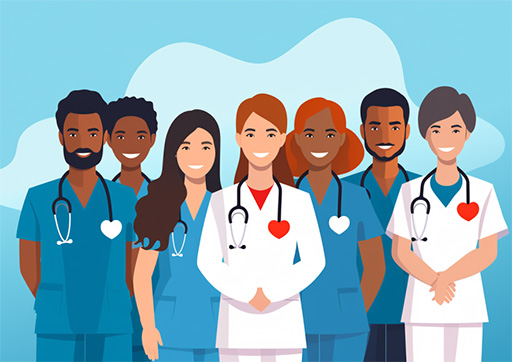 Identify people who would benefit from specific remedies, and it will allow them to implement these without waiting too long. The scans are cost-effective, too – the only thing you need is one device per team.
Scan the body with acupoints to access specific meridians linked to 14 essential systems and organs, then compile that data on an easy-to-understand chart. Use nutritional analysis to see if supplements are in balance.
These are just some examples of tools and systems that your team can incorporate. Some teams may find a tool more beneficial than others, while some others require fewer systems in place. That's okay – there's no right or wrong answer here.
The goal is to put together a team that works for you and your patients while utilizing the right equipment that works best with your team. As technology advances at an ever-increasing rate, there's no telling what innovative changes will come about through having an interdisciplinary team in healthcare over the next few years.